3 Gates of Healing with Rae Indigo
March 19 @ 17:00

-

March 22 @ 19:00

6995kr
Event Navigation
Many people come to yoga to handle pain. Uncertainty, frustration and fear that life will not improve are common struggles you or a loved one might be experiencing. Therapeutic Yoga addresses all levels, body, mind and spirit. This immersion focuses on the body but includes information on yogic mind science and spirit.
Once you understand the theory, practicing and using it become your new tool for yourself, and if you are a teacher, a great blessing to your students. Therapeutic yoga is an art of communicating with parts of our body, mind, and emotions that we have forgotten or are avoiding because of pain, or apathy. What we communicate with, we can improve, repair and heal.
In this immersion, learn how to teach yourself and to guide others to develop a new relationship with lost, broken, wounded parts, and restore from the inside out. We focus specifically on physical practices, with clear and applied poses, pose expression, prop use, and alignment. You are given a complete system, full explanation of theory and diverse techniques to create wellbeing. Questions are very welcome.
• Therapeutic Alignment
• Repairing Communication Lines
• Force/Counter Force
• Bandha Expression
• Prop use
• Contact point theory
• Wall asanas
• Daily Q & A
• Bones, muscles, joints, tendons, ligaments
• Blood Pressure
• Aging and Yoga
Certified yoga teachers will receive 30hr CEU credit upon completion of course.
Non-certified yoga teachers also welcome to this course.
Suitable for all levels of practice and education
Tider:
Tors kl 17-21
Fre kl 17-21
Lör kl 8:30-16:30
Sön kl 8:30-16:30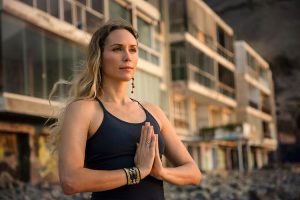 Rae Indigo developed a precise system of healing through yoga.  This system is based on geometry and energetic expression. It is the most effective and efficient system of creating communication within the body, using the mind, frequency, and coordination.  Once the body becomes coordinated, it is able to regenerate tissue and vitality swiftly. When you have knowledge, you have control.
Rae has studied and practiced yoga and yogic philosophy since the age of 3.  Growing up with a father who practiced Hatha yoga, and also studied the sciences of mystery schools gave her a wealth of information from a very early age.  Her work is dedicated to healing modern people with efficient and effective technologies. She calls her system of Yoga Therapy, "The 3 Gates", and has been teaching Yoga Therapy for 20 years, the foundation of these practices she learned from her teacher, Dr. Ranjani Cobo an adept yogi, and medical doctor who volunteers around the world helping impoverished women with health and wellness.
Rae founded the World Yoga Institute and United Yoga.  She tours the world offering certifications and in-depth immersion courses.   She works with doctors, NBA, UFC, US Military, and physical therapist offering the key system that unite healing modalities.  She has studied Thai Massage, Jiu Jitsu, Wing Tzun, Kempo, Muy Thai, Kundalini Yoga, Meditation, Zen Meditation, to name a few.  
She teaches the full spectrum of yoga styles, and instructs her teachers in how to create yoga poses and yoga sequences for any person or population.  Her certifications have a high standard, and her students have clarity and knowledge of the full system of yogic practices.
She believes graduates should be well-versed in all areas of life, including yoga, movement arts, business, marketing, community building, parenting, relationships and technology.  A complete human is able to demonstrate knowledge and ability in all areas of life, thus unifying everything in the material and spiritual world. If you work with her you will have the ability to create a powerful effect wherever you would like in your life.  She focuses on demonstrable results in all her courses, programs and certifications with a money back guarantee.
Rae Indigo leads teacher trainings & immersions in South America (Peru, Chile, Colombia), Mexico, USA, Bali, Thailand, Sweden and other parts of Europe.