Back to You
2019-11-21 @ 18:30

-

19:30

850kr
Event Navigation
Detta är kursen för dig som vill förbli grundad och lugn genom den krävande årstiden framför oss. Då säsongen skiftar karaktär mot mer introvert relaterade kvaliteter, kommer denna kurs över fyra tillfällen lära dig hur du navigerar tillbaks till ditt eget center.
Lugna rörelser för hela kroppen kommer följas av restorativ yoga, guidad meditation och lätta andningstekniker. Genom att finstämma din inre kompass kommer du att kultivera medveten närvaro för större intimitet med dina egna förnimmelser och behov så att du känner dig redo att gå vintern i möte.
Du kommer att lära dig:
Sköna rörelser att integrera i ditt vardagsliv. Rörelse har en lugnande effekt på kropp och sinne. När vi rör oss med vår andning, i ett lugnt tempo, är rörelse meditiv och avslappnande.
Restorativa yogapositioner som ett sätt att komma ned i varv när det behövs. Här blir din kropp fullt stöttad så att du fullkomligt kan släppa taget om spänningar på ett djupt plan -både fysiskt och mentalt.
Andningstekniker som kan utövas närsomhelst, vartsomhelst.
Hur rörelse, andning och uppmärksamhet hör ihop och hur dessa tillsammans är meditation.
ALLA är välkomna, inga förkunskaper krävs för att delta. Kom som du är❤️
_____________
Back to You
This is the course for you who wants to stay grounded and calm through the busy, dark months ahead. As the season shifts to more inwards related qualities, this four-time course will teach you how to navigate back to your own center.
Gentle movements for the full body will be followed by restorative yoga, guided meditation and accessible breathing techniques. By fine tuning your inner compass, you will cultivate higher awareness and closer intimacy with your own sensations and needs so you stay ready to meet the winter season.
Main take aways will be:
Learning gentle, calming movements to incorporate in your daily life. Moving has a calming effect on the mind and body. When moving with the breath, in a calm pace, moving will be meditative and soothing.
Learning restorative yoga positions as a tool to settle and get rested when needed. Restorative positions are fully supporting your body so that you can let go and release tension in the deepest layers -physically and mentally.
Learning breathing techniques that can be done whenever and wherever.
Learning how moving, breathing and paying attention is related and how they blend together as meditation.
EVERYON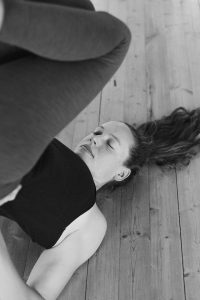 E is welcome, no previous knowledge is necessary to join this course. Come as you are❤️