From the ground up- Yogakurs för nybörjare
February 23 @ 17:00

-

18:00

990kr
Event Navigation
Kortfattat kommer vi att fokusera på:
-Varför öva Yoga? En titt på hur yoga förbättrar vår kropp och sinne.
-Grundpositioner och korrekt användning av dem för våra individuella kroppar. Hjälp med justeringar av din lärare för att visa hur du använder asana på bästa sätt.
-Grundläggande Hatha och Vinyasa, variationer och teknik.
-Andningsövningar; hur man andas rätt i vardagen, i rörelse, i statiska övningar, olika typer av pranayama och meditation.
-Att använda redskap (block, band, bolster) på rätt sätt.
– Vad meditation är och varför det är viktigt. Vi avslutar träningen varje vecka med en ny form av meditation för att känna vilken som är bäst för dig.
Kursen är anpassad för dig som är nybörjare eller för dig som vill ha en uppfriskning i teknik, justering och stilar. Ingen tidigare yoga-kunskaper behövs.
5 veckors kurs
Varje söndag 16.00-17.00
Startdatum: 16 februari fortsätter 23e februari, 1,8,15 mars.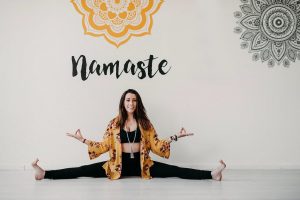 Yoga comes in all variations and forms these days, and it's tough to keep up with the 'know' of everything from breathing cues to the names of positions to technique and alignment. This course takes yoga from the ground and shows us how to build up to practicing different forms with correct knowledge of body and breath.
In short, we will focus on:
-Why practice Yoga? A look into what this form of practice is improving in our body and mind.
-Basic postures and proper use of them for our specific bodies. Hands on adjustments by your teacher to show how to use the asana best for you.
-Learning ground level Hatha and Vinyasa, variations and technique.
-Practicing breathing; how to breathe correctly in every day life, in movement, in still poses, the types of pranayama and in meditation.
-How to use props (blocks, straps, bolsters) to assist ourselves.
– What meditation is and why it is important. Ending the practice every week with one new form of meditation to see the variety and feel which is best for you.
This course is for those new to yoga, or who want a refresher in technique, adjustment and styles. No prior yoga knowledge necessary.
5 week course – limited spots available so it is treated more like a PT than a big group class.
Every Sunday 16:00-17:00
Cost: 990 kr
Start date: February 16,
Continuing February 23 March 1, 8, 15