23 jan 2018: Post pregnancy yoga course
En 8 veckor lång kurs för mammor som syftar till att återfå sin kropp efter graviditet. I kursen går vi igenom kroppens olika delar och hur vi påverkas fysisk och psykiskt av att genomgå en graviditet. Vi gör övningar som hjälper att stärka upp kroppen på rätt sätt och lär oss av varandra. Efter varje träff skickas beskrivningar av övningar ut så att man kan träna hemma.
Barnen är självklart välkomna att vara med! Det finns mattor och leksaker så det räcker till alla. Kom och yoga med ditt barn! Kontakta Jerrica för frågor: jerrica@utopiayogastudios.com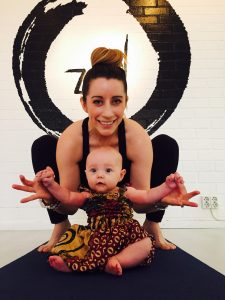 9 feb 2018: Vedic chant for healing
We are so excited to welcome special guest, Cheryl Oliver from Arizona, USA for 2 days of inspiring yoga workshops! First will be Vedic Chant for Healing, the second is an super amazing Adjustment Workshop. You can reserve a spot in one, or both for a discounted price.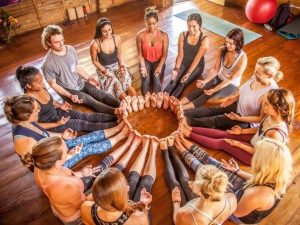 The vibrations produced by vedic chant have the potential to alter our physiological state, and thereby improve physical and mental health. In addition to the intellectual benefits (improved awareness, concentration and memory) chanting can calm us or energize us, it can help balance our energy, increase breath capacity, and support overall well-being. Up to 4 healing mantra will be chanted in this workshop.
Cost: 300:-
Both: 800:-
Email jerrica@utopiayogastudios.com to reserve a spot!
Cheryl Oliver, E-RYT500, has been teaching Sanskrit, Vedic Chant and yoga philosophy since 2004, and yoga asana since 1998. Cheryl's teaching style is warm and compassionate, enthusiastic and patient. Every class is experiential (and fun!) as Cheryl gently encourages students out of their comfort zone toward practice, understanding and transformation. Cheryl is blessed to count her late husband, Dave Oliver, along with Sonia Nelson, Menaka Desikachar and Nicolai Bachman among her many teachers. She is one of only 30 Certified Vedic Chant Teachers in North America, and has passed the GCSE Examination in Sanskrit offered by Cambridge University. She has completed five trips to India to study ashtanga vinyasa with Rolf & Marci Naujokat, and Sanskrit & vedic chant at Sannidhi of Krishnamacarya Yoga (SKY) and the Krishnamacarya Yoga Mandiram (KYM). Cheryl owns Authentic Yoga Teacher Training in Scottsdale, AZ, offering Yoga Alliance Registered 200, 300 & 500 Hour Yoga Teacher Training programs.
10 Feb 2018: Adjustment workshop with Cheryl Oliver
We are so excited to welcome Cheryl Oliver to Utopia for 2 days of Worskhops. You can choose which you'd like to attend or attend both for a discounted price!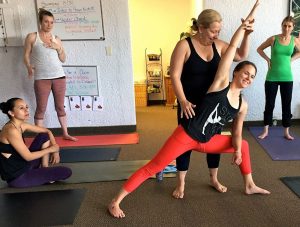 Whether you are a teacher looking for new information, or a student interested in "how the pose should feel" this workshop will open your eyes, open your mind, and open your body! You will learn and understand safe and transformational assists by giving and receiving physical adjustments in a wide variety of yoga poses. Learn the principles that will empower you to create, improvise, and customize assists safely and effectively. The poses covered in the workshop are suggested by the participants, so every workshop is relevant for every participant.
Cost: 600:-
Both workshops (Adjustment plus Vedic Chant for Healing): 800:-
BG 5122-4640 or Swish 123 535 0780 (Name+AdjustmentWS)
Email jerrica@utopiayogastudios.com to reserve your spot!


10 mars 2018 kl 10:00-13:00: Yoga för nybörjare
Yoga för nybörjare med Olivia Berggren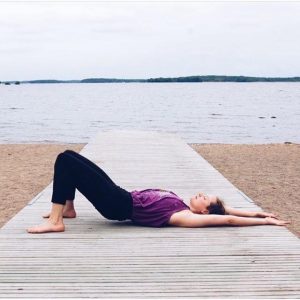 Detta är workshopen för dig som är ny med yoga, och för dig som vill lära dig mer om grunderna.
Vi kommer att utforska principer för att väcka kroppen så att vi får det stöd vi behöver när vi rör oss på yogamattan och genom livet i övrigt. Kroppskännedom snarare än kroppskontroll är kärnan i denna workshop där vi lär oss att känna in vårt behov för rörelse – och vila. Intentionen är att du ska få bättre förståelse för yogans olika positioner och rörelser så att du efterföljande känner dig trygg att gå på yogaklasser eller yoga hemma.
Investering: 380:-
Email jerrica@utopiayogastudios.com to reserve your spot
Välkommen till yogan!
12 mars 2018 kl 19:00-20:00:  Utopia goes to the Theater!
Virpi Pahkinen is in Västerås for the performance Ichos!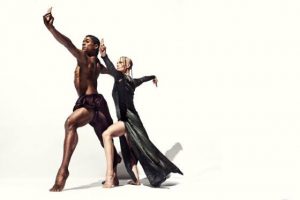 Häng med Utopia till teatern för en kväll med yoga-inspirerad dans! Utopia kan erbjuda sina medlemmar 50% rabatt på biljetten. Som medlem betalar du endast 83 kr.
Virpi Pahkinen med sin otroligt vackra, asiatiskt och yogainspirerade dans, tillsammans med slagverkare Mika Takehara, och suveräne dansaren Pontus Sundstedt kommer till Västerås Konserthus måndagen den 12 mars med sin kritikerrosade föreställning Ichos.
Ta med en vän och njut av en timmes magi. Begränsat antal biljetter. Först till kvarn!
Gå in på vårt bokningssystem för att boka:
https://utopiayogastudios.gymsystem.se/member#/login
Jerrica tar med biljetterna. Vi träffas 18:40 utanför konserthuset. Frågor till jerrica@utopiayogastudios.com
Hoppas vi ses där!
19 mars 2018 kl 17:30-20:00:  Master Class with Rae Indigo
Vi är stolta att få välkomna Rae Indigo hela vägen från Lima, Peru till Utopia!
Rae Indigo började öva yoga redan som barn. Nu har hon över 25 års erfarenhet av yogastudier och 15 års erfarenhet som lärare. Hon under många år forskat i hur kroppen reparerar skador och hur den mentala och fysiska hälsan samverkar. Hon har utvecklat sin egen metodik för att ta kontroll över sin fysiska och mentala kropp med hjälp av asana (särskilda positioner), pranayama (andningsövningar) och mudra (handrörelser).
Ta del av hennes kunskaper och lär dig kanalisera din inre energi mot samadhi.
Investering: 300 kr
http://unitedyoga.pe/english/about-us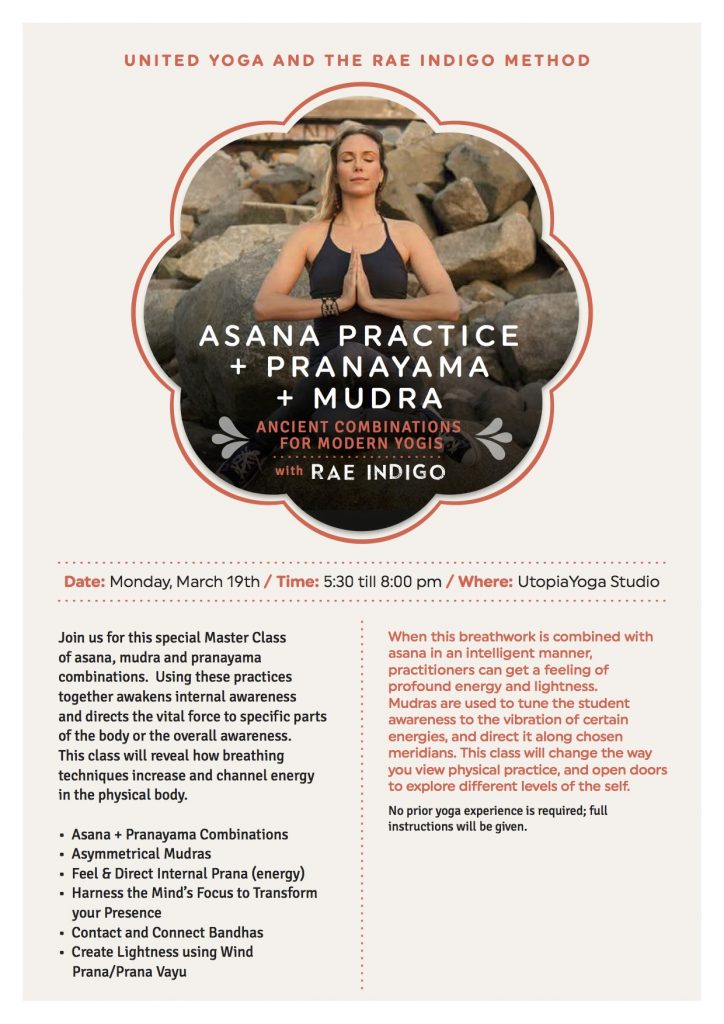 13 april 2018 kl 17:00-19:00: Shanti night at Utopia – gratis Yin-klasser för alla!
Shanti Butik will join us with some of their fantastic products at Utopia Yoga Studios for an evening of Hot Bolster Yin, Yin & Yang, some tea, shopping time and goodie bags from Shanti!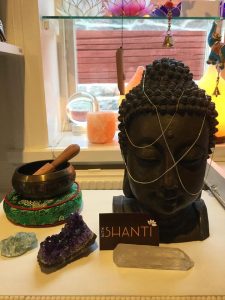 Event starts at 17:00
Classes are gratis for all, members or non-members, first come- first to get a spot!
Hot Bolster Yin by Alexandra at 17:15-18:15
Yin & Yang by Jerrica at 17:15-18:15
Shanti tea and chill 18:15-19:15
Butik Shanti drivs av tre vänner och hos oss kan du komma in för en lugn stund och känna in alla de ljuvliga dofter från det stora utbudet av rökelser, doftoljor, thé och doftljus. Vi har ayurvediska produkter såsom tvålar, schampoo, thé och oljor. Gillar du choklad så har vi flera olika sorter av mumsig vegansk choklad att välja på. Sjalar i naturmaterial såsom ull, siden och bomull i en massa härliga färger och mönster. Du hittar den perfekta presenten hos oss till antingen dig själv eller varför inte en vän. Vi är en lugn oas mitt i stan dit alla ska känna sig välkomna.
Till Utopia kommer vi ha med ett urval på vad vi säljer i butiken bland annat ayurvediska produkter, sjalar, klangskålar, saltkristallyktor, choklad och thé. Vi ser fram emot att mötas på Utopia!
Love & Light
juli 2018 Open air Utopia yoga  [wpdevart_countdown text_for_day="Days" text_for_hour="Hours" text_for_minut="Minutes" text_for_second="Seconds" countdown_end_type="date" end_date="04-07-2018 18:00″ start_time="1518273247″ end_time="0,1,1″ action_end_time="hide" content_position="center" top_ditance="10″ bottom_distance="10″ ][/wpdevart_countdown]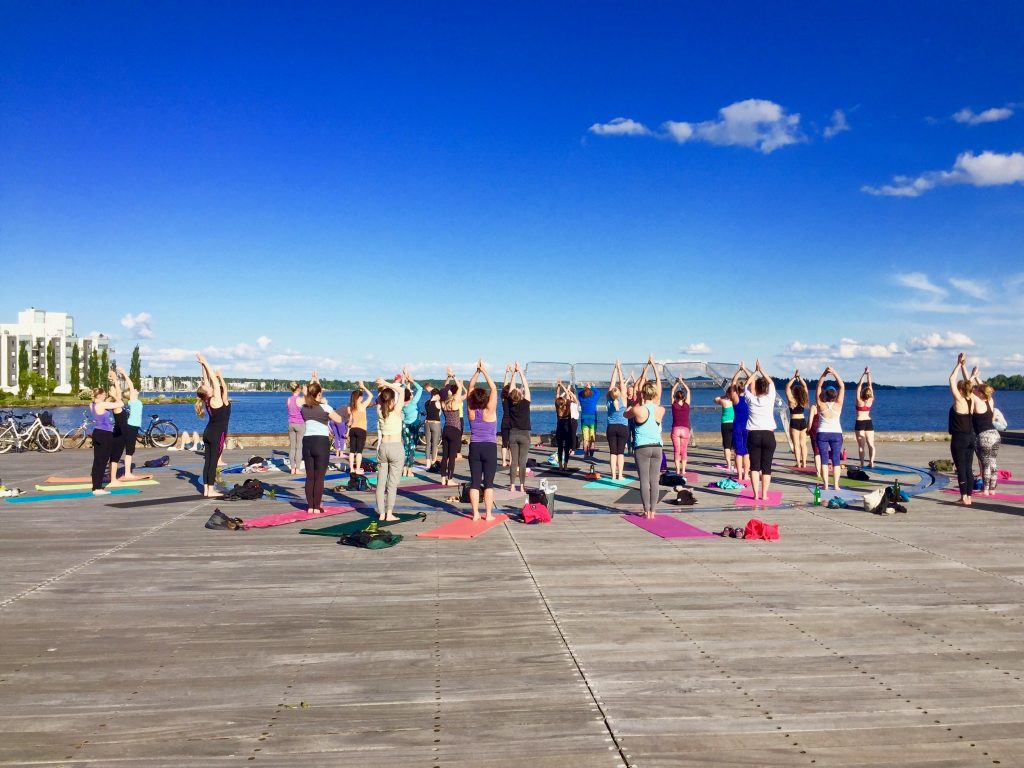 Kom och njut av yoga på kajen vid Agrill (Mälargatan 6) varje onsdag i juli kl 18:00-19:00! Gratis för alla och passar alla. Vi har med mattor att låna. Häng med oss på "After-yoga" på Agrill!